A day of talks, workshops, networking, and awards to recognise the hard work of technicians and empower their career development
In November, our new Advance training centre hosted the 2021 Research Institute Technician Symposium and the first ever Research Institute Technician Awards, known as the RITAs. With 60 attendees from across the 9 institute members of the Research Institute Technician Group (RITG), this celebration of the contributions of technicians was a huge success.
The Technician Commitment was established in 2017 with the aim to ensure visibility, recognition, career development, and sustainability for technicians working in higher education and research. RITG was formed as a collaboration between a number of research institute signatories of the Technician Commitment, including MRC Harwell, so that they could work together on these aims.
As career development is one of the key aims of the Technician Commitment, the theme of this year's symposium was "Own your technical career", with talks and workshops focused on empowering attendees to seize opportunities to enhance their careers. Alongside keynote talks from Steve Cross and Jonathan Peach about career and confidence building, there were talks about the different pathways careers can take from three technician speakers: Mike Hinton (Babraham Institute), Sophie Pritchard (Wellcome Sanger Institute), and Julia Mundy (John Innes Centre). After a networking lunch, there were a set of workshops to choose from that provided attendees with practical tools they can use going forward in their careers.
MRC Harwell's Technician Commitment Lead and Advance Scientific Training Centre Manager, Liz Bentley, commented, "It was fascinating and inspiring to hear about the varied routes our speakers had taken in their careers and how they had brought interests outside of work into the lab to develop in new directions. This was also the first big event we've hosted at our new Advance training centre, so it was great to see it in action!"
Alex Fower, who coordinates the GEMM (Genome Editing Mice for Medicine) call for the Mary Lyon Centre and attended the Symposium, remarked, "The RITS 2021 Symposium was a great opportunity to meet and speak to people from other institutes who share a similar role to me. I really enjoyed the workshops and having a chance to connect and network with like-minded people. I came away with great ideas and clear goals for myself and my career."
The symposium was closed with the presentation of the RITAs; a celebration of the skills, talents, experience, and dedication of technicians working at research institutes, with certificates presented to the winners by Kelly Vere MBE, Higher Education and Technician Commitment Programme Director at the Science Council. With over 60 nominations for five categories, it was a difficult task for the judges. The winners were Matt Fairburn (Technical skills specialist award, Babraham Institute), Tatiana McHardy (Contribution to the Technician Commitment award, Institute of Cancer Research), Lesley Shirley (COVID-19 response contribution award, Wellcome Sanger Institute), Helen Cooper (Contribution to outreach or knowledge exchange award, MRC Laboratory of Molecular Biology), and Lesley Mitchenall (Lifetime achievement award, John Innes Centre).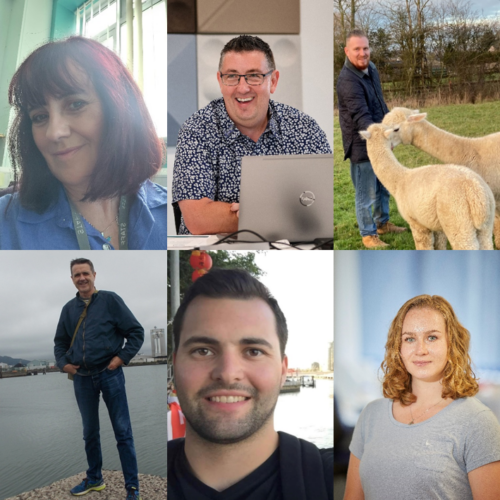 Some of MRC Harwell's RITA-nominated technicians. Clockwise from top left: Adele Austin, Simon Gillard, Chris Jones, Kelly O'Donovan, Eddie Chambers, and John Bowler.
To further celebrate the hard work of technicians at MRC Harwell, last week we held a short ceremony to recognise the 10 members of staff nominated across four of the categories and provide them with certificates for their nomination at the RITAs. Several were nominated for their contributions to the institute's COVID-19 response to recognise the extra responsibilities they had to take on as sickness, self-isolation, and childcare created staffing issues or where reduced access affected how work could be done. These included Adele Austin, Lynn Beresford, Chris Jones, Greg Joynson, Kelly O'Donovan, and Anju Paudyal.
Eddie Chambers was nominated in the Technical skills specialist category for his work on the recording of mice using continuous home cage monitoring and ultrasonic vocalisation recordings. Simon Gillard was nominated for the award for contributions to the Technician Commitment to recognise his mentorship and support for other technicians becoming professionally registered. Lastly, John Bowler was nominated for the Lifetime achievement award, having been a very valued member of staff here for more than 40 years. John has been instrumental in training hundreds of new technicians, researchers, and PhD students in animal husbandry tasks and excellent animal welfare, and always goes that extra mile to help anyone who asked for his advice or help. Congratulations to all of them!