Bradley Allen – Laboratory Technician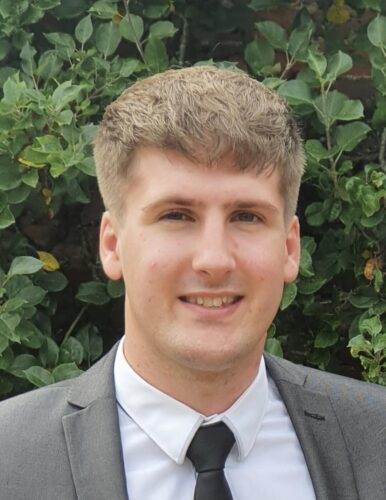 What is your role at MRC Harwell? How long have you worked here?
I am a laboratory technician, working in the Frozen Embryos and Sperm Archiving (FESA) team as part of the biological resources group. I carry out a variety of laboratory techniques that enable us to cryopreserve embryos and sperm for the purpose of storage of mouse lines that can be rederived and recovered later, either here in the FESA laboratory or elsewhere with external clients that we've shipped frozen samples to. I have worked at MRC Harwell for just over a year.
What is your career/education background?
I studied an undergraduate masters in Biological Sciences at the Royal Veterinary College, University of London. Whilst at university I carried out numerous research projects which inspired me to pursue a career in scientific research. After attaining my degree in 2020 I started as an Animal care technician for Envigo RMS at their site in Blackthorn. After 8 months learning skills and gaining knowledge of the research sector at Envigo, I joined the MRC as a laboratory technician.
Did you see yourself doing this kind of job when you were younger?
I always wanted to work with animals, originally wanting to become a veterinary surgeon. Upon attending Vet-Medlink I decided this wasn't for me, but I still knew I wanted to go into further education, so chose a broader subject to study, meaning that I could specialise later down the line once I figured out what I enjoyed!
What do you enjoy most about your job?
What I most enjoy about my job is seeing the whole process from freezing down sperm, to carrying out in vitro fertilisation to produce embryos, which are then transferred into recipient females. This is rounded off by the production of pups, which ultimately completes the cycle.
How has your role changed?
Since joining the MRC I have been trusted with more responsibility, managing my own sections of work within the lab as well as assisting adjoining departments with their workload. This has increased to the point of being trusted to assist with teaching the Cryopreservation training course at our Advance training centre.
What advice do you give to new colleagues starting in junior roles?
There are so many opportunities to go on courses and develop as an individual, so I would advise them to go on as many relevant courses as possible to advance their career, not only with hard skills but also soft skills, and generally to take advantage of all the opportunities on offer.
What are the skills you have gained during your career that have made the biggest impact?
I have gained a personal licence with a PIL A/B and C certification from the Home Office. This allows me to carry out procedural work on mice, which is vital in my current job role and will aid me in my future career. This is the biggest skill that will help me to pursue a career as a researcher.
Are you professionally registered? Would you recommend others to do it?
I have just attained my RSciTech registration. The process was smooth—I found the application process simple and it allowed me to reflect on my skills and what I actually carry out within the workplace. I haven't been registered long, but, in my eyes, it's good that I can say I am a Registered Technician and am aiming to be a Registered Scientist. This will make me more respected in the industry and will be beneficial if I decide to move on from my current role.
What do you like to do outside of work?
Outside of work I enjoy playing sport most, namely football and tennis, and I am a member of local clubs for both of these. Other than this I enjoy baking, video games and going to the cinema as an unlimited customer.
---
Find out more about the National Mouse Archive, through which we offer a free archiving service to preserve your mouse strains and make them available to the scientific community.