Jackie Harrison – Biological Service Unit Manager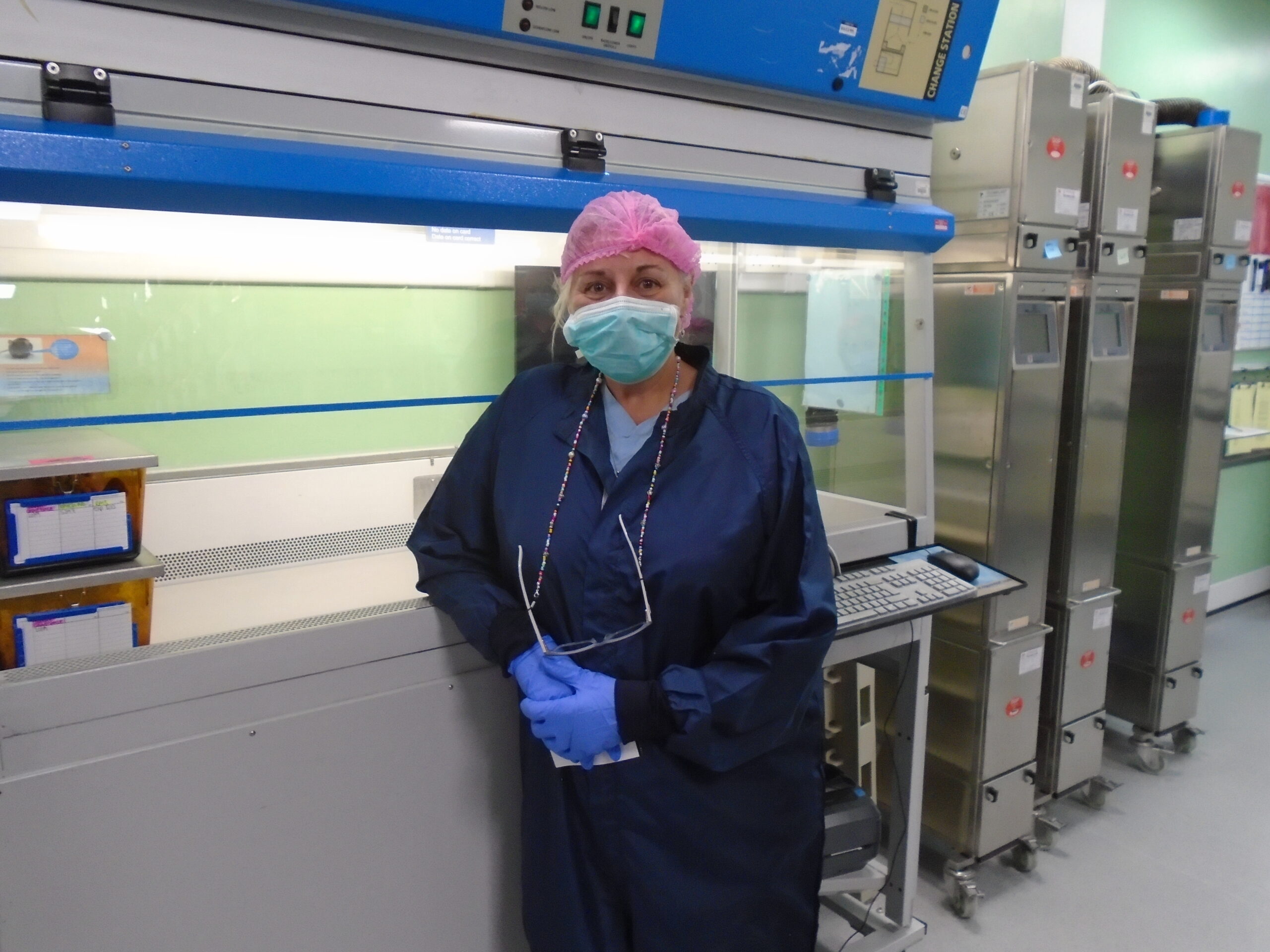 What is your role at MRC Harwell? How long have you worked here?
I am a Biological Service Unit (BSU) manager within the Mary Lyon Centre (MLC) at MRC Harwell, having first come to Harwell in 1998. I have 7 animal technicians working with me and together we look after the welfare and husbandry needs for around 4,000 mice at a very high standard. I'm a NACWO (Named Animal Care and Welfare Officer) in the MLC – I am the voice for the mouse if there are any welfare concerns and I contribute at AWERB committee meetings; this is where we discuss existing or new project licenses and, as a NACWO, I can voice any welfare concerns about the project.
What is your career/education background?
Before my current career route, I was a staff car driver for the army. After leaving that job and moving to Bicester, I didn't really know what I could do and the things I was best qualified for didn't really appeal. I happened to see an advert for an animal technician role in the paper and decided to call them for more information. They told me that it would involve breeding rats and mice and my first thought was that I wouldn't want to do that kind of work. But I took a bit more time to think about it and then called them back to say that actually I would be interested in the position, if it was still available. Fortunately I got that job and haven't looked back!
Did you see yourself doing this kind of job when you were younger?
No, not at all! I loved animals and used to help my dad on the farm where he worked, but my initial plan was to become a nurse, before I ended up joining the army. On the farm, mice and rats were just seen as pests, so there's no way I would have thought about working with them or caring for them, even if I'd ever heard about this kind of work existing! I guess now that the interest in patient-care that attracted me to nursing has benefitted my work as an animal technician as welfare and care for the mice is such an important part of the job.
What do you enjoy most about your job?
We're a very close-knit team and the whole of MRC Harwell has a real family feel. I've always worked in teams and think I'm a good team player, so I really appreciate the working atmosphere here. There's a feeling that the senior staff really care about the work and about the people working underneath them, which is really important – as is the fact that I can talk to them about anything and always feel like I can say what I think. I also find the work itself very rewarding.
How has your role changed?
I first started as an Animal Technician here in 1998 and then became Production Ward Team Leader in 2005 and BSU Manager in 2009. Being here that long, the work has changed a lot! We now do a lot more science, breeding calculations, and genetics, so it's a lot more complicated than my first animal technician work where it was mostly just looking at the mice to see how they were.
I was encouraged to go for this managerial position, but didn't feel a lot of self-confidence in my abilities, so found it very nerve-wracking when I got the job. Luckily, I've always had a lot of support from the team around me and have learnt that nobody expects anyone to know everything – we all just support each other and work on everything as a team.
What advice do you give to new colleagues starting in junior roles?
Ask lots of questions! There's a wealth of knowledge out there that you can benefit from and nobody will judge you for asking questions – it's mad how we perceive others might react to our questions.
Don't be scared by a job title. Sometimes you just have to take a leap and see where it takes you! I wouldn't be where I am today if I hadn't tried out the animal technician job just because I initially felt a bit put off by what it would involve.
What are the skills you have gained during your career that have made the biggest impact?
I think for me, it's how I've progressed with my organisational skills, allowing me to look at the bigger picture of how I can support the whole unit, rather than look after just my own working area.
Are you professionally registered? Would you recommend others to do it?
Yes, I am. I found it really good to reflect back on my achievements and realise everything I've done. I think it's also a good thing to be able to include on my email signature and on my CV – both because I'd hope it reflects well on the MLC as an organisation whose staff has the right accreditation and a high level of skills and because it shows my own keenness to learn and develop. I'd definitely recommend others do it.
What do you like to do outside of work?
One of my main hobbies is sewing – I recently made a dress for a summer ball and was amazed at how well it worked as I made it all without a pattern! I also like to spend my free time walking the dog, reading, and organising parties/social events, including contributing to the organisation of social events at work!
---
Find out more about our commitment to ensuring the welfare of our mice and implementing the 3Rs.