Marie Hutchison – Compliance, training and competency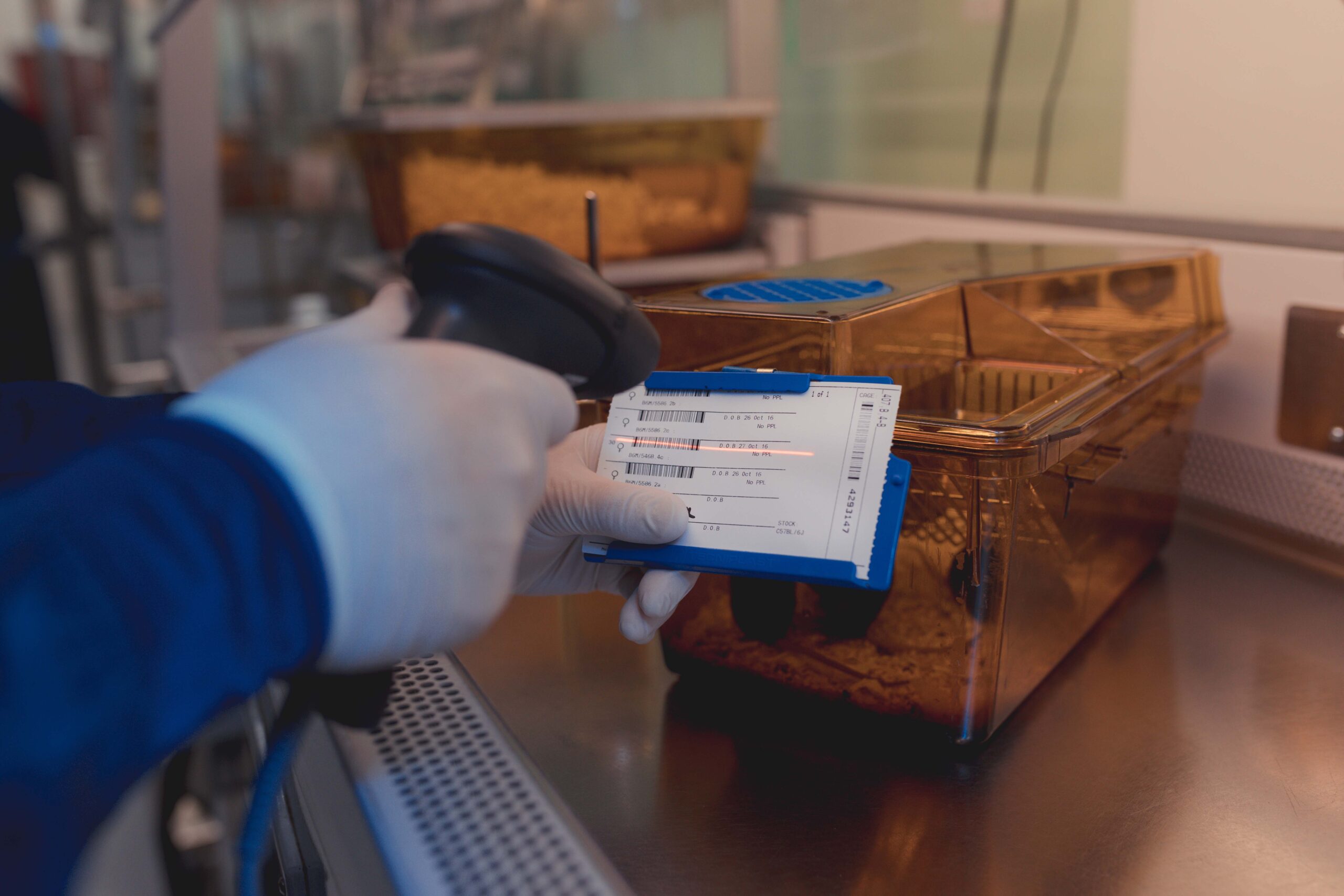 What is your role at MRC Harwell? How long have you worked here?
I have been working at MRC Harwell since 2003, where I began as a Band 6 animal technician.
I have previously been responsible for the line management of a team of animal technicians in the Mary Lyon Centre (MLC) and I am one of the Named Animal Care and Welfare Officers (NACWO) responsible for the welfare, breeding and maintenance of mutant mouse lines. I was in my last role for 13 years but have recently moved across to a new job where my focus is now on compliance, training and competency. I am one of the Named Training and Competency Officers (NTCO) and also the Named Information Officer (NIO).
I have steered various projects that I have initiated focusing on improvements for multiple stakeholders and with consideration of refinements for animal welfare. These have involved reviewing current methods in cage-checking of animals in the MLC, assisting with the implementation of Actual Severity Assessment and improving staff induction for new starters. These projects were key parts of my studies during my degree.
What is your career/education background?
I'd had a few different jobs before joining MRC Harwell, including working in a shop, packing eggs, and at a kennels. I also previously completed a National Diploma in Animal Care. Recently, while at MRC Harwell, I've been able to achieve a degree in Management Practice with the Open University.
Did you see yourself doing this kind of job when you were younger?
I've always wanted to work with animals and wanted to work at a vets when I was younger. After leaving school, I did a Diploma in Animal Care, but actually animal research had only a very small mention within that course, so it wasn't an option I really thought about. I actually found my MRC Harwell animal technician role at the Job Centre and initially didn't think I'd want to work in a place that did animal research, but I decided to apply for interview practice. I was blown away by the discussions around animal welfare and became excited about the work that I could be doing, so I'm pleased I decided to apply and glad they offered me the job!
What do you enjoy most about your job?
I really care about the welfare of the animals in my care and really appreciate all that the organisation and my colleagues do too. I love that I've been able to make welfare a core part of my job, because it's also a really interesting thing to work on as different mouse strains can have very different needs, so the work is ever-changing and there's no one-case-fits-all strategy. It's also an area that is dynamic and constantly evolving as we develop new processes to further improve welfare, all of which can be challenging as well as exciting.
I've been working here for nearly 20 years and it has been great to build fantastic relationships with so many colleagues over such a long time. This is a great place to work with a really nice working atmosphere, so not only do people stick around for a long time, but I've known people who've left for a job elsewhere and then come back because they know what a great place this is!
How has your role changed?
My first job at MRC Harwell was as a Band 6 Animal Technician and I was then promoted to Band 5 in 2005 in the Mutagenesis Ward in the Mary Lyon Centre, where I began to manage the embryo screens for internal and external scientific groups. In 2009, I was promoted to become a Band 4 Biological Services Manager where I line managed 6 Animal Technicians.
In the Band 5 role, I was involved in daily husbandry tasks, embryo harvesting, colony management, record keeping, and procedural work and this changed to direct management of staff in my Band 4 role and taking on the NACWO role to ensure welfare and care of the animals in the ward.
My work now is much less hands-on in relation to the animal work and I am involved in ensuring that all technicians are trained and competent in their roles. I have continued to provide welfare reporting for the MLC to provide a wider overview, which is an area of work I really enjoy as it allows me to see the bigger picture of welfare as a whole in the centre and to look at refinements outside of the MLC that could be useful to explore.
What advice do you give to new colleagues starting in junior roles?
You have to take opportunities to learn new skills and don't just rely on your immediate team to teach you everything – go out elsewhere to learn and then bring those skills back to share with your team. There's plenty of useful training out there, so look for it and be proactive in booking yourself on it.
Don't be afraid to ask questions. If you ask a scientist about something you don't understand, they will want to talk about it and will be more than happy to try to help you get it – they won't judge you for not already knowing everything. If it's their subject area, they often won't stop talking!
What are the skills you have gained during your career that have made the biggest impact?
Moving into a management role has been a big step up and required me to improve my problem-solving and communications skills in particular. I am required to talk to a broader group than just my immediate team as I have to make sure I'm known to more people around the site. There are of course also skills and expertise in welfare that I am constantly adding to, adapting, building, or developing.
Doing my degree it made me realise that I should go outside Harwell more to find information on research done elsewhere, even if it isn't immediately relevant to me, and then to share it with colleagues.
Are you professionally registered? Would you recommend others to do it?
Yes, I am professionally registered. I was initially worried as the application looked difficult and I thought the whole process would be a lot of work, but I eventually went for it after some colleagues did and recommended it. I think it was absolutely worth the work.
As well as feeling nice to see your achievements, it provides you with great access to a lot of training material, newsletters, networking opportunities and ways you can broaden your knowledge base, while also organising your professional development and ensuring that it is a priority.
What do you like to do outside of work?
I love reading. I absolutely inhale books and am happiest when sat outside with one. I also love food and love getting new recipes, even though I'm not actually a great cook!
---
Find out more about our commitment to ensuring the welfare of our mice and implementing the 3Rs.